SPARE PARTS : Free trolleys for power and free systems

Free Trolleys for drop forged Chain Conveyors
Most important components of a power and free conveyor, the free trolleys are product and assembled in our workshop with a great attention.
Composed with forged or moulded parts, they are equipped with the same wheels as the chain trolleys.
FROST France trolleys can be erected on CFC or WEBB conveyors.

Available free trolleys :
Free trolleys for BR 32 conveyor
Free trolleys for BR 3 conveyor
Free trolleys for BR 4 conveyor
Free trolleys for BR 6 conveyor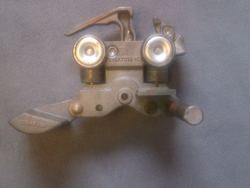 We can also provide FATA type free trolleys
For each size of conveyors, we can propose you fronts, intermediates and back trolleys, normal our high temperature greased.
Free Trolleys for Installation.
As for every

components, the free trolleys for 32000, 2000 and 29000 systems are also available.